As for most people, my 2020 was somewhat mixed! But I was glad to have the site to focus on. Here's a quick recap on new DNA Painter releases this year, along with a summary of other activities.
January: Cluster Auto Painter improvements
The end of 2019 saw the release of the Cluster Auto Painter, an attempted first step on the path towards automated chromosome mapping. When you paint the segments associated with DNA matches who form clusters of shared matches, you can potentially get a head start on sorting your shared segments according the family lines you inherited them from.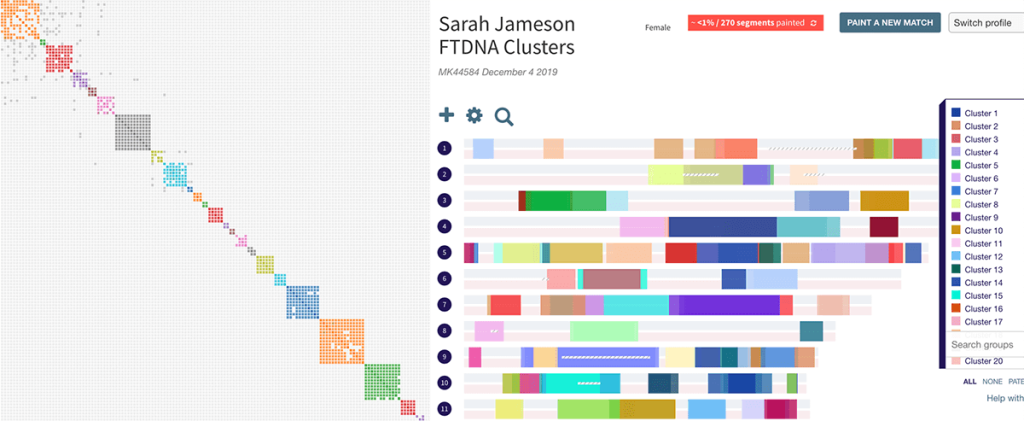 Depending on which site the clusters are from, this can involve plucking two specific files from a large set. This is confusing, so it was important to tidy up this process and make it clearer to users what was needed. A blog post on the process is here.
February: Conferences, plus traits in chromosome maps
I had a dream about implementing traits in chromosome maps, so I decided to honour that dream by implementing it on the site. More info is in the introductory blog post here.
February also included two conferences: GGI Belfast and Rootstech 2020 in Salt Lake City, Utah.
DNA Painter had a conference show booth at Rootstech where I enjoyed meeting users. The booth was exceptionally busy for the entire show, and I was very grateful to be accompanied by the moderators of the DNA Painter Facebook Group, Patricia Coleman and Leisa Byrne.
March: Haplogroups in trees and the updated Shared cM Project
With conference commitments behind me, I was able to work on a long-standing request: integrating Y-DNA and mtDNA haplogroups in DNA Painter ancestral trees. Alongside the 'mark as a genetic ancestor' feature, this enables genealogists who are passionate about DNA to annotate their pedigree with DNA information alongside new ancestor discoveries. More info on this feature appears in this blog post.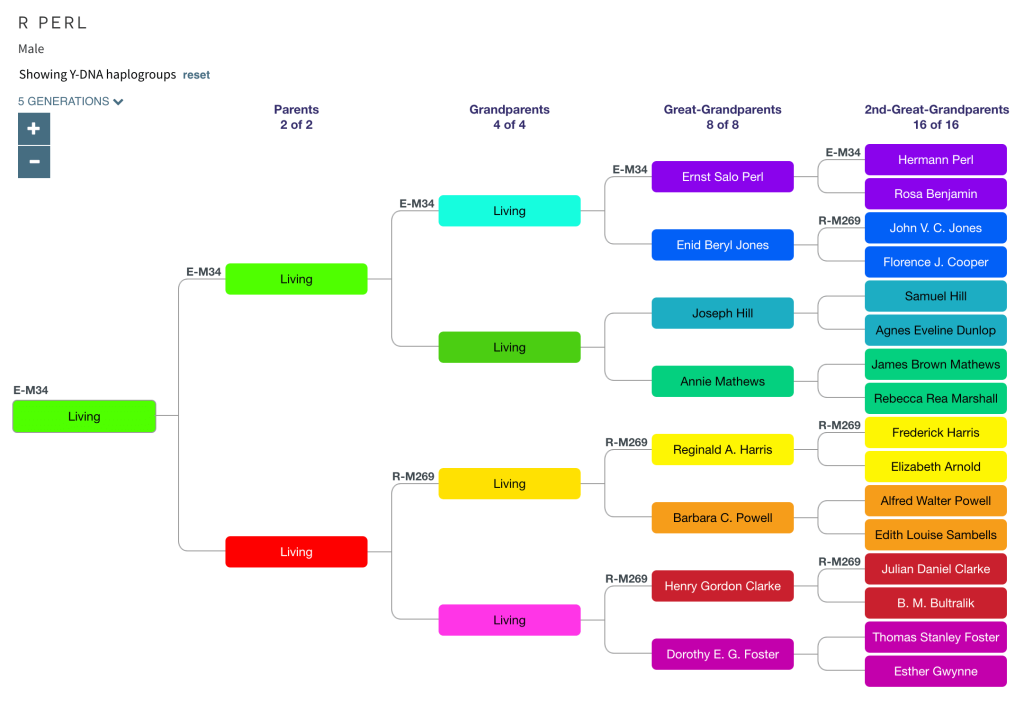 The other big news in March was the updated Shared cM Project tool, released simultaneously with Blaine Bettinger's updated Shared cM Project v 4.0. The updated tool includes histograms, allowing one-click access to this extremely useful graph of cM distribution for each relationship. More release notes are here.
April and May: What are the Odds?
In April and May I was consumed with developing the overhauled What are the Odds (WATO) v2. The main innovations in v2 are GEDCOM imports, updated odds, and the ability to ask WATO to suggest hypotheses automatically. There will be further updates in future to make WATO easier to grasp for new users, but this work feels like a big breakthrough!
June: WATO v2 release and webinar
June saw v2 of WATO finally released, and I gave a webinar at Legacy Family Webinars to introduce it.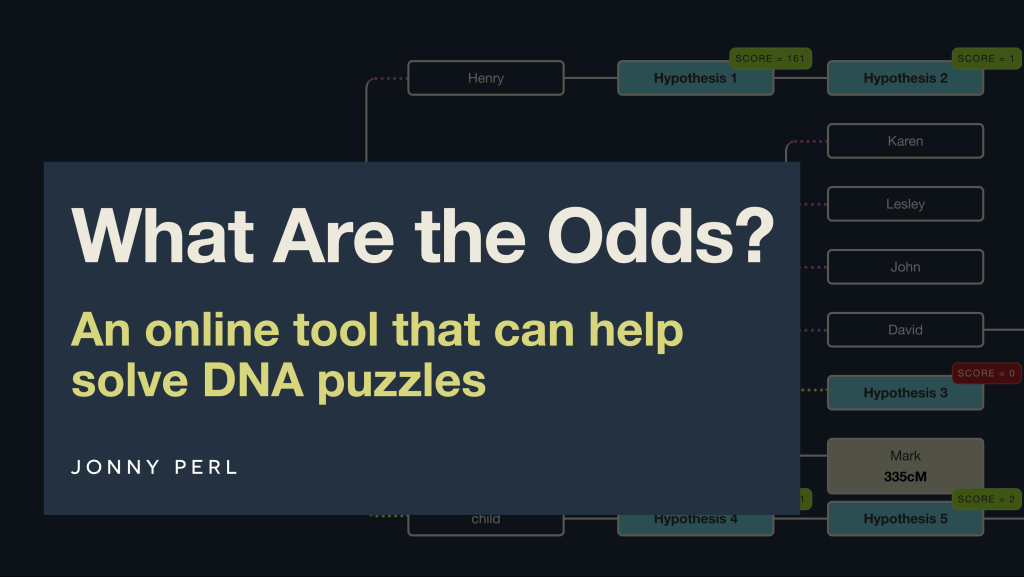 July and August: Tweaks and improvements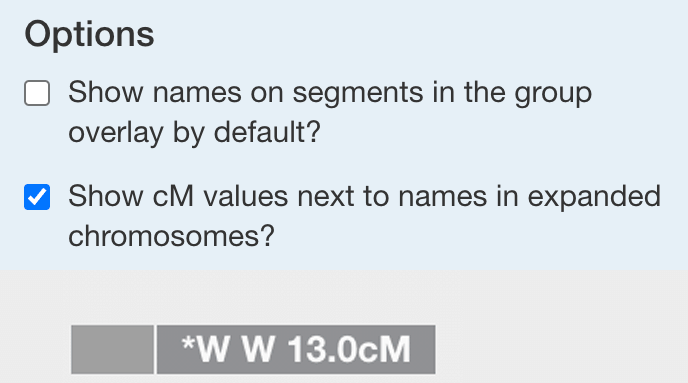 Over the summer I released some small improvements to existing functionality:
You can now check a box in options to have the number of cMs in a match show on-screen whenever you have the chromosome expanded
The bulk import process now omits duplicates more effectively
A new feature was also released: the inline segment editor allows you to edit segments directly within a table. This is available under the 'all segment data' report in the settings area (see this blog post for more info). In future this will be developed further so that you can select several segments and move them in bulk to a different group.
Finally, inspired by Werner's nomenclature of colours, I released a new 'Werner' colour palette to Ancestral Trees. You can alter your existing tree by clicking 'Palettes' and choosing a different option.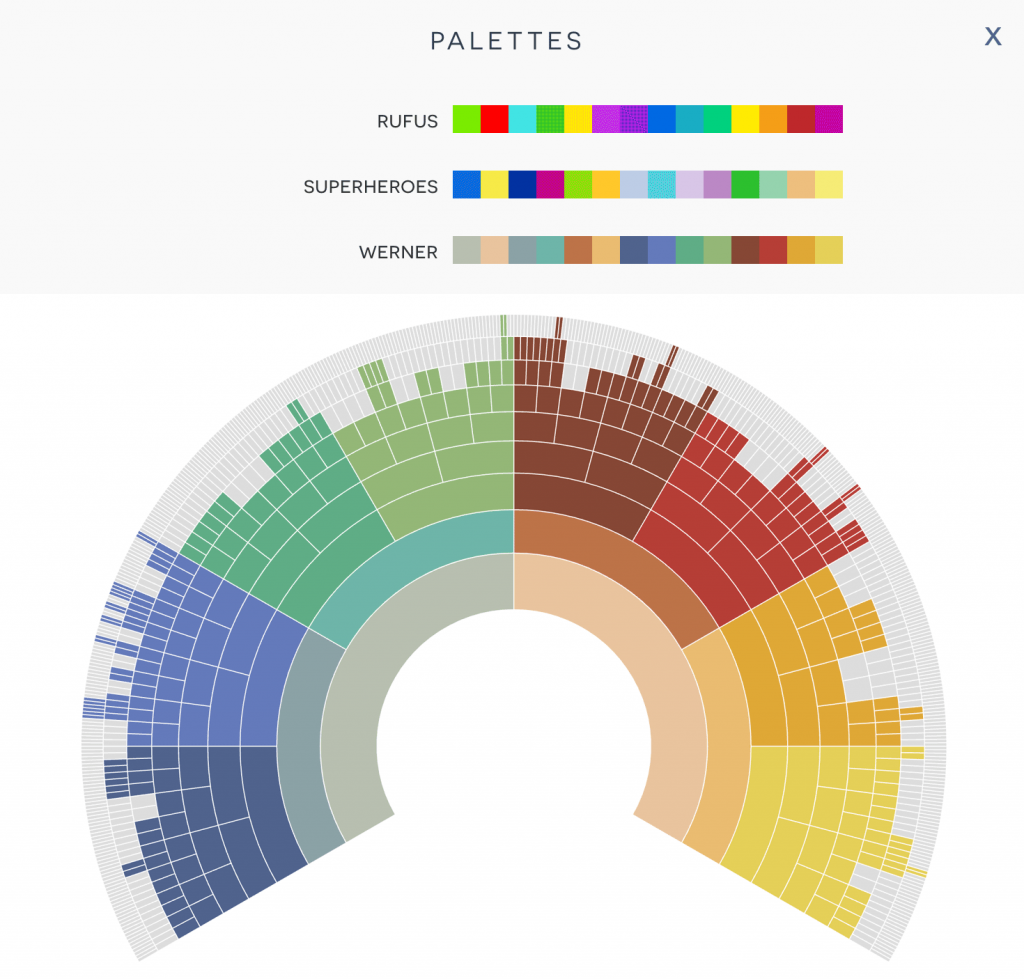 September: monthly tips email
September saw the launch of a DNA Painter mailing list for a free monthly email with news and tips.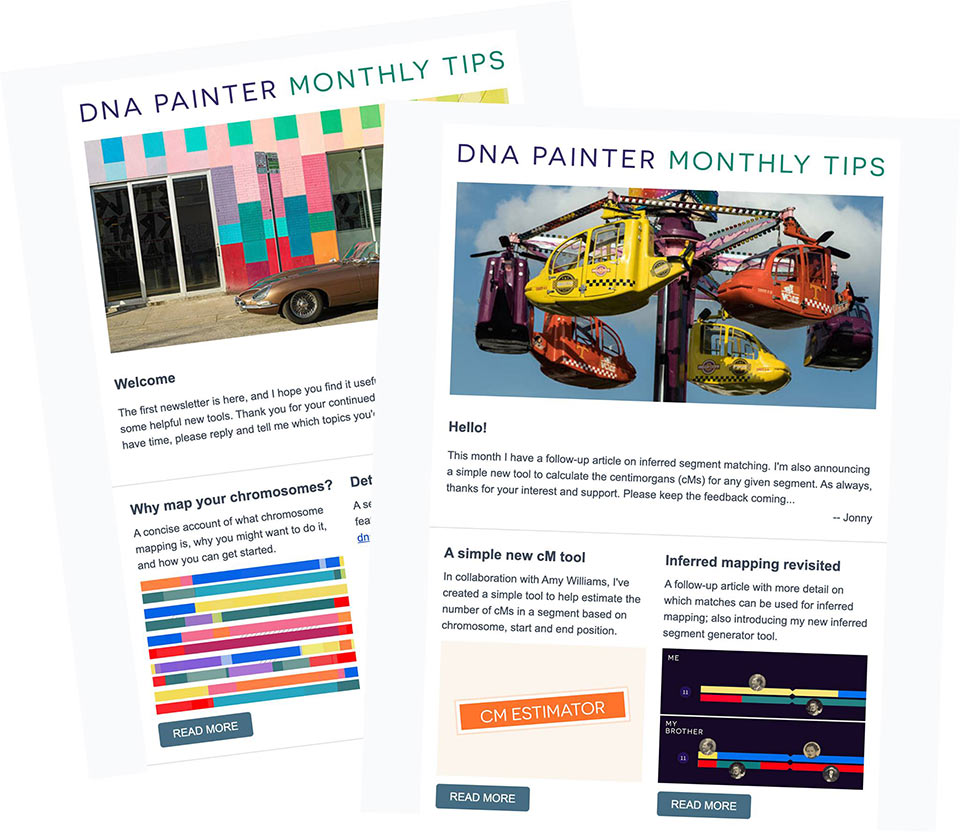 October: Inferred segment generator tool and FFT Live
In October I spoke at the Swedish conference FFT live and also released a new tool: Inferred segments generator. For more background on what the tool is for and how to use it, please read this blog post.
November: cM estimator tool
In collaboration with Amy Williams, I released the cM estimator tool and accompanying API. Background information is here. The rest of my time was spent preparing for another webinar.
December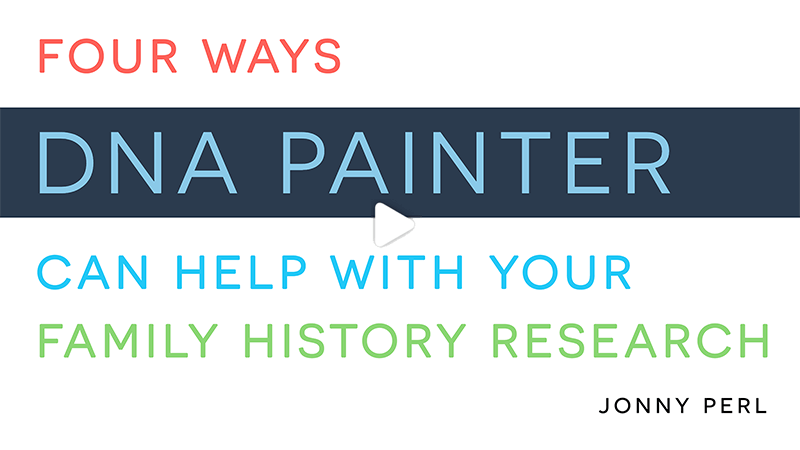 My webinar Four ways DNA Painter can help with your family history research went out on December 2nd. I hope this helped make the site clearer to new users. A central goal this month is to continue to try and make the site accessible for those who are new to DNA. First steps have included linking to introductory blog posts within the homepage dashboard, but there's much more to come.
I've also been working on some exciting new features, so perhaps I'll come back and edit this post later this month with one last new DNA Painter release of the year. Watch this space…
In the meantime I've also launched gift subscriptions in case there's anyone else in your life who you think would enjoy DNA Painter.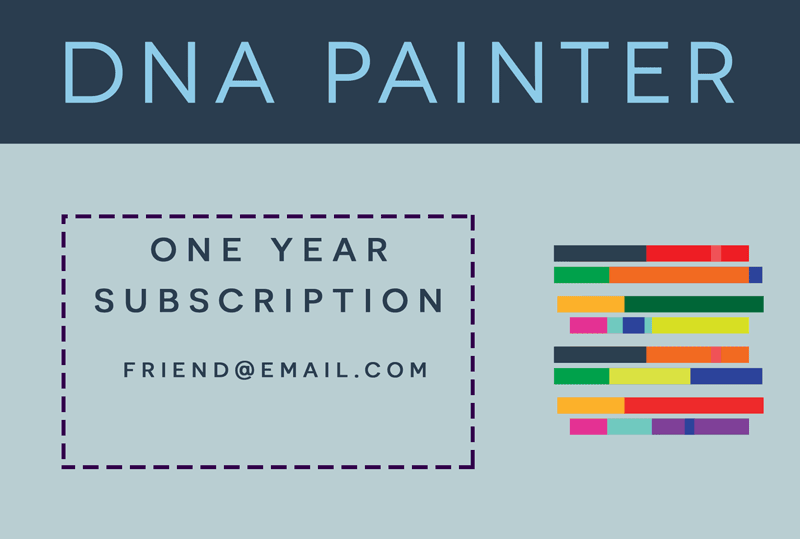 2021 will be very busy. Thanks to everyone for your ongoing interest and support!
Contact info: @dnapainter / jonny@dnapainter.com